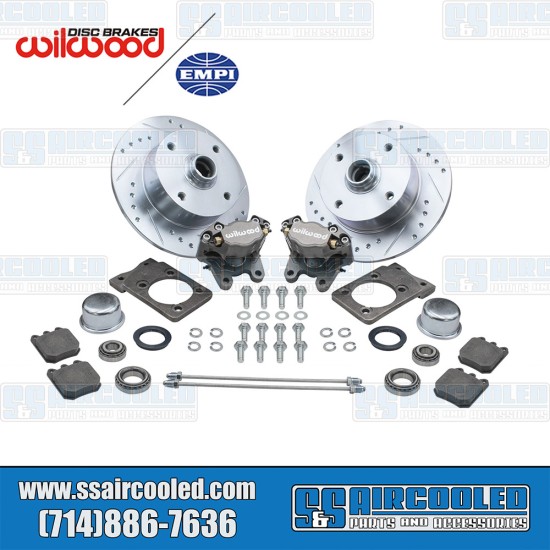 New
EMPI Disc Brake Kit, Front, 4x130mm, Wilwood Calipers, Bolt-On
EMPI Disc Brake Kit, Front, 4x130mm, Wilwood Calipers, Bolt-On, 22-6150-0
One of the best upgrades you can do for your Super Beetle is to convert the old drum brakes to disc brakes. This brake kit from EMPI is a great performance upgrade with Wilwood 2 piston calipers and performance rotors. Converting your vehicle from drum to disc is made simple with this true bolt-on kit. Featuring heavy duty cast brackets that bolt directly to your stock drum brake spindles – then calipers to the brackets. This cross-drilled and slotted rotor comes with M14-1.5 threaded holes with a VW 4x130mm pattern. Wheel studs are not included. These kits will only work with stock-style, drum brake spindles.
Kit Includes: (2) Cross-Drilled and Slotted Brake Rotors(4x130mm Lug Pattern), (2) Wilwood Brake Calipers w/Pads, (2) Inner SKF Wheel Bearings, (2) Outer SKF Wheel Bearings, (2) Grease Seals, (2) Grease Caps. (2) Caliper Mounting Brackets, (2) 10" Metal Brake Lines, (1) Caliper Mounting Hardware.
Installation Note: This kit CAN NOT be used with Backing Plates! This kit re-uses the backing plate bolts to mount the caliper brackets. This kit does not include Spindle Hardware(See Related Products). WARNING! It is extremely important that brake lines be installed by a trained mechanic. Proper length of each line in relation to wheel travel and steering angle is critical to avoid brake failure. Equally important is brake lines must be free flowing and have no contamination. Additionally, all calipers must be bled properly, regardless of kit purchased. Do not attempt brake line or caliper installation without the experience to properly evaluate all of these issues.
Disc Brake Kit, 22-6150-0, Front, 4x130mm, Wilwood Calipers, Bolt-On, EMPI, Sold as Kit

Model:

22-6150-0

MPN:

22-6150-0

EMPI