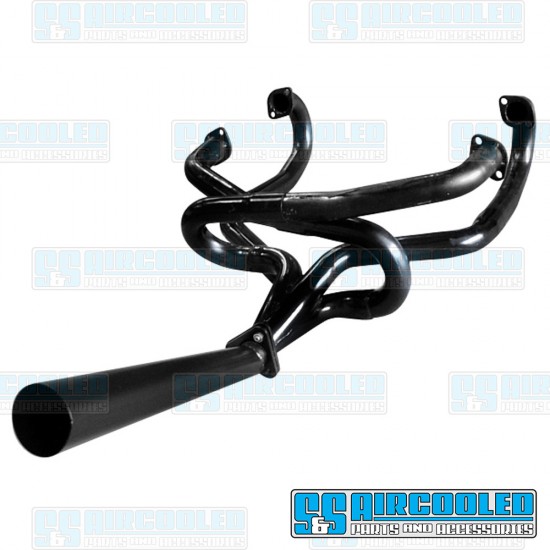 EMPI Exhaust Header, 1-5/8in, Merged, w/Stinger, Black
EMPI Exhaust Header, 1-5/8in, Merged, w/Stinger, Black, 00-3699-0
EMPI's Merged Exhaust System with Stinger is for the serious street car and race car. This is a 1-5/8" header with mandrel bent primary tubes fitted to a long merged collector. All the thick flanges are surface ground and inner welds are finish ground to ensure a flat sealing surface and smooth exhaust flow. This header has a centered collector with a small 3-Bolt flange in the 1 o'clock position. Includes a swivel flange racing stinger.
Installation Note: Do not mix headers and mufflers from other manufacturers. The muffler may not align properly with the header causing the muffler to hit the body or hang lower to the ground. If you are unsure which header you have you are better off replacing the header and muffler together to ensure a proper fit. EMPI offers several different styles of headers and mufflers, be sure your header fits with your muffler before purchase. Most headers and mufflers are coated with a layer of paint which acts as a rust inhibitor, and will burn off once the exhaust gets hot. It is best to remove this coating and apply a quality hi-temp paint. Exhaust systems are not warranted against rust. High exhaust temperatures may cause discoloration or bluing in Ceramic and Stainless, this is not a manufacturing defect. We do not warranty systems against discoloration or bluing.

Application Note: This is a performance product and is not designed to be used in a stock application, this product can be used on most Volkswagen models with slight modifications. If you have questions please contact us before purchase.
Exhaust Header, 00-3699-0, 1-5/8in, Merged, w/Stinger, Black, Sold ea.

Exhaust Specifications
Header Type
Merged(Centered Collector)
Muffler Type
Stinger
Header Dia.
1-5/8"
Collector Flange
Small 3-Bolt
Heat Risers
No
Finish
Black
Model:

00-3699-0

MPN:

00-3699-0

EMPI