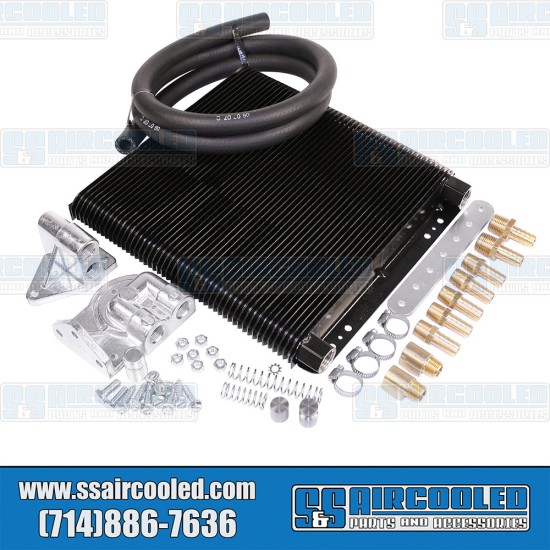 New
EMPI Oil Cooler Kit, 24-Plate, Includes Filter Adapter & Oil Hose
EMPI Oil Cooler Kit, 24-Plate, Includes Filter Adapter & Oil Hose, 00-9272-0
The ultimate in cooling efficiency. The EMPI stacked-plate design offers maximum cooling with almost bulletproof strength. Aircraft quality aluminum, flux-less oven brazed construction. Cross-path airflow effectively cools oil as air passes through as many as 16 paths across sturdy embossed plates. Insignificant pressure drop with twice the cooling and half the size! Painted black for fast heat dissipation. These coolers are all fitted with 1/2in. (NPT) female pipe thread fittings. Make sure to use 1/2in. (NPT) male pipe thread fittings when mating a fitting to these coolers.
Kit Includes: Oil Cooler, Bypass Adapter, Remote Filter Bracket, High-Temperature Hose and all fittings required for installation.
Oil Cooler Dimensions: 1-1/2in. x 3-3/4in. x 11in.
Application Note: This is considered a universal part and can fit many different applications based on modifications to the vehicle. Application information is just for reference and not applicable to a stock vehicle configuration. Please verify your application before purchase to ensure this part is correct for your project.
Oil Cooler Kit, 24-Plate, Includes Filter Adapter & Oil Hose, EMPI, Sold as Kit
Model:

00-9272-0

MPN:

00-9272-0

EMPI