Piston Ring Set, 90.5mm (1.5mm x 2mm x 4mm), Chrome Top Ring, Grant Piston Rings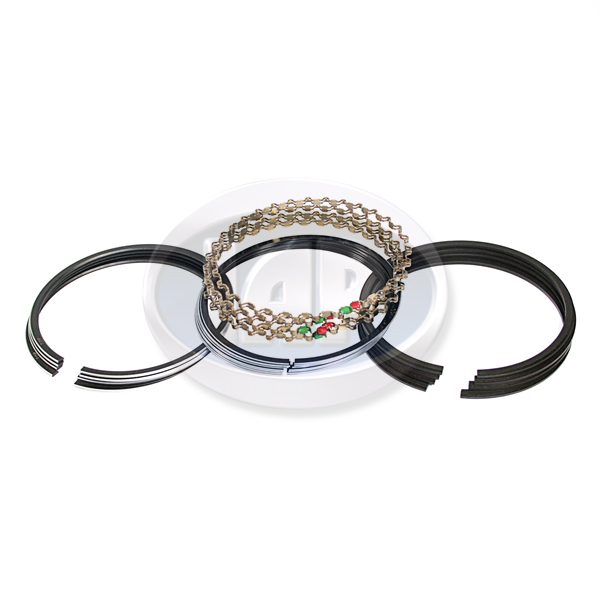 Piston Ring Set, 90.5mm (1.5mm x 2mm x 4mm), Chrome Top Ring, Grant Piston Rings
Grant is a leading manufacturer of piston rings with 80 years of experience, Grant produces their piston rings for superior reliability, efficiency and performance. Made in the USA, Grant piston rings are manufactured utilizing the latest in production techniques and technology to ensure that you only receive an exceptional finished product. Made in the USA, Precision made from grey grade iron castings, Normally beveled inside top ring for ideal oil scraping, Chrome plated compression ring for resistance against abrasion and scuffing, Circumferential styled oil rings provide quick ring seating and positive oil control.
Tech Tip: To ensure you get the proper ring size first measure piston diameter using veneer calipers or a micrometer then measure the thickness of the ring grooves or the old set of rings, common sizes are 1.5mm, 1.75mm, 2mm and 2.5mm for Top and Second compression rings. While the oil rings can measure 4mm and 5mm.
Piston Ring Set, 90.5mm (1.5mm x 2mm x 4mm), Chrome Top Ring, Grant Piston Rings, Sold as Set
Application Note:

Volkswagen parts can sometimes be interchangable, for this reason the information listed below is for a stock, unmodified vehicle. S&S Aircooled Parts and Accessories is not responsible for any errors if your car has been modified in any way.

| | | |
| --- | --- | --- |
| Make | Model | Years |
| VW Beetle | Convertible | 1949 - 1970 |
| VW Beetle | Sedan | 1949 - 1977 |
| VW Beetle | Sunroof | 1949 - 1977 |
| VW Bus | All Models | 1950 - 1971 |
| VW Karmann Ghia | Convertible | 1957 - 1974 |
| VW Karmann Ghia | Coupe | 1957 - 1974 |
| VW Super Beetle | Convertible | 1971 - 1979 |
| VW Super Beetle | Sedan | 1971 - 1977 |
| VW Super Beetle | Sunroof | 1971 - 1977 |
| VW Type 3 | All Models | 1961 - 1973 |