Case, 90.5/92mm Bore, 8mm Studs, Pent-Roof, Aluminum, Kühltek Motorwerks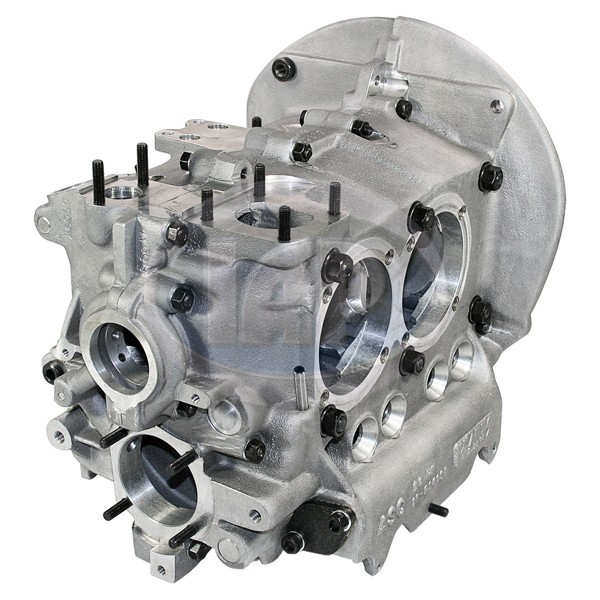 Case, 90.5/92mm Bore, 8mm Studs, Pent-Roof, Aluminum, Kühltek Motorwerks
The original raised roof reinforced case. This case comes with most of the machine work required to build a hot street motor. Our pent-roof performance case has all of the features that are needed for maximum performance on both street and strip. Pent-roof reinforces the case top, Reinforced Behind #3 Cylinder, Ported and Smoothed for better oil flow, Reinforced Head Stud Area, Deep Stud #3 Cylinder, Drilled and Tapped for Full Flow System, Clearanced for 86mm Stroke Crankshaft, Shuffle Pins on Center Main Bearing Saddle, Large Oil Pick-up.
Case, 90.5/92mm Bore, 8mm Studs, Pent-Roof, Aluminum, Kühltek Motorwerks, Sold ea.

Application Note:

Volkswagen parts can sometimes be interchangable, for this reason the information listed below is for a stock, unmodified vehicle. S&S Aircooled Parts and Accessories is not responsible for any errors if your car has been modified in any way.

| | | |
| --- | --- | --- |
| Make | Model | Years |
| VW Beetle | Convertible | 1949 - 1970 |
| VW Beetle | Sedan | 1949 - 1977 |
| VW Beetle | Sunroof | 1949 - 1977 |
| VW Bus | All Models | 1950 - 1971 |
| VW Karmann Ghia | Convertible | 1957 - 1974 |
| VW Karmann Ghia | Coupe | 1955 - 1974 |
| VW Super Beetle | Convertible | 1971 - 1979 |
| VW Super Beetle | Sedan | 1971 - 1977 |
| VW Super Beetle | Sunroof | 1971 - 1977 |
| VW Thing | All Models | 1973 - 1974 |
| VW Type 3 | All Models | 1961 - 1973 |