Serpentine Pulley Kit, The Original, Red, MST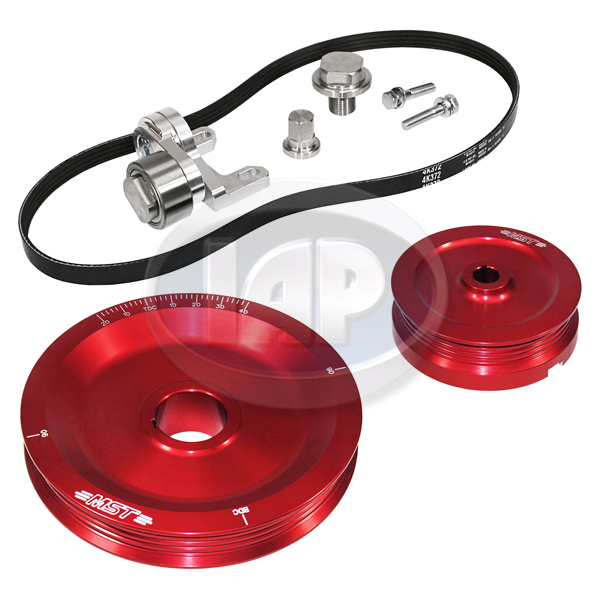 Serpentine Pulley Kit, The Original, Red, MST
This MST The Original serpentine pulley system reduces belt slippage and provides a quiet, smooth operation. The MST serpentine belt system is CNC machined from 6061-T6 aircraft quality aluminum to precision tolerances and engineered to deliver long lasting reliability and performance. The belt tensioner has grooved teeth on the bracket to ensure proper belt tension.

Kit Includes: Alternator/Generator Pulley, Crankshaft Pulley, Idler Bracket Assembly, Stainless Steel Alternator/Generator Nut and Crankshaft Bolt, 5-rib Belt, Mounting Hardware and Installation Instructions.
Installation Note: This system requires an 12-1600cc engine case that has a bolt on Alternator/Generator stand. This system will not work with 11-1200cc 36hp style cases with integrated Generator stands.
Application Note: This is considered a universal part and can fit many different applications based on modifications to the vehicle. Application information is just for reference and not applicable to a stock vehicle configuration. Please verify your application before purchase to ensure this part is correct for your project.
Serpentine Pulley Kit, 10400110, The Original, Red, MST, Sold as Kit

Application Note:

Volkswagen parts can sometimes be interchangable, for this reason the information listed below is for a stock, unmodified vehicle. S&S Aircooled Parts and Accessories is not responsible for any errors if your car has been modified in any way.

| | | |
| --- | --- | --- |
| Make | Model | Years |
| VW Beetle | Convertible | 1961 - 1970 |
| VW Beetle | Sedan | 1961 - 1977 |
| VW Beetle | Sunroof | 1961 - 1977 |
| VW Bus | Bay Window | 1968 - 1971 |
| VW Bus | Split Window | 1961 - 1967 |
| VW Karmann Ghia | Convertible | 1961 - 1974 |
| VW Karmann Ghia | Coupe | 1961 - 1974 |
| VW Super Beetle | Convertible | 1971 - 1979 |
| VW Super Beetle | Sedan | 1971 - 1977 |
| VW Super Beetle | Sunroof | 1971 - 1977 |
| VW Thing | All Models | 1973 - 1974 |