Valve Covers, Billet Aluminum, Vented, Blue, MST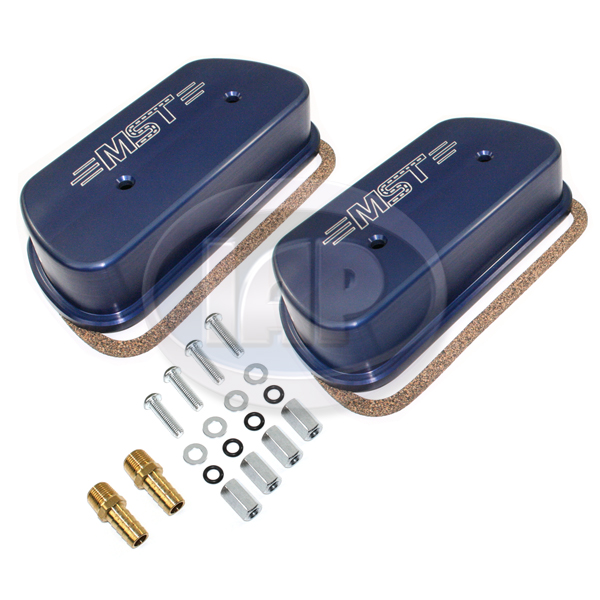 Valve Covers, Billet Aluminum, Vented, Blue, MST
MST bolt-on valve covers are Made in the USA and utilizes a 6061-T6 aluminum construction. These billet valve covers are precision machined for an exact fit. The MST valve covers are a bolt-on replacement for your stock original valve covers. The bolt-on covers come with an ingenious no-slip lip for the gasket and a smooth o-ring for the bolts. Vented valve covers have been pre-drilled and threaded to accept a 3/8" NPT fitting and the inside wall is re-enforced. Includes: Valve Covers, Seals, Vent Plugs/Fittings and Mounting Hardware.
Installation Note: These valve covers may cause interference between the motor and body of the vehicle due to the size. Some modifications to the vehicle body may be required to avoid damage to the engine.
Valve Covers, Billet Aluminum, Vented, Blue, MST, Sold as Set

Application Note:

Volkswagen parts can sometimes be interchangable, for this reason the information listed below is for a stock, unmodified vehicle. S&S Aircooled Parts and Accessories is not responsible for any errors if your car has been modified in any way.

| | | |
| --- | --- | --- |
| Make | Model | Years |
| VW Beetle | Convertible | 1949 - 1970 |
| VW Beetle | Sedan | 1949 - 1977 |
| VW Beetle | Sunroof | 1949 - 1977 |
| VW Bus | All Models | 1950 - 1971 |
| VW Karmann Ghia | Convertible | 1957 - 1974 |
| VW Karmann Ghia | Coupe | 1957 - 1974 |
| VW Super Beetle | Convertible | 1971 - 1979 |
| VW Super Beetle | Sedan | 1971 - 1977 |
| VW Super Beetle | Sunroof | 1971 - 1977 |
| VW Type 3 | All Models | 1961 - 1973 |