Spark Plug Wires, 8mm Spiral Core, Purple, Silicone, Taylor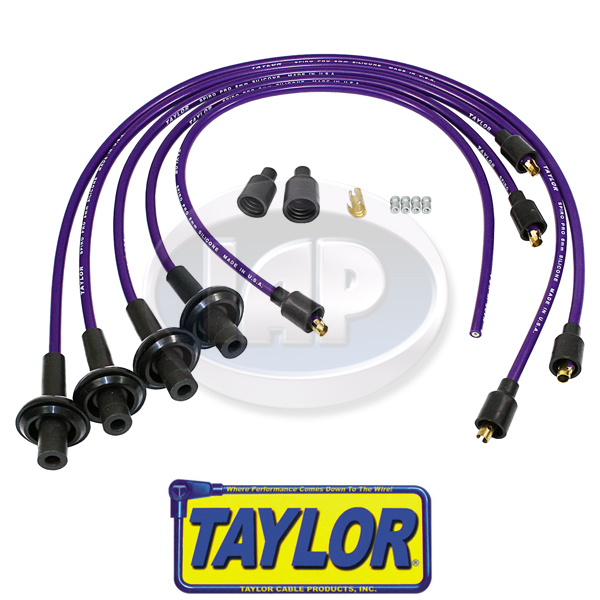 Spark Plug Wires, 8mm Spiral Core, Purple, Silicone, Taylor
Taylor 8mm Spiro-Pro Ignition Wire Set for 12-1600cc Aircooled Volkswagen based engines. These high-quality 8mm Silicone plug wires are an excellent choice for aftermarket wires for your stock beetle, dune buggy or performance application. Silicone jacketed resists up to 600 degree temperatures, the spiro-core ignition wire core reduce resistance and woven fiberglass over-braid help set this top-quality spark plug wire above the rest.
Made in the USA.
Available in Black, Yellow, Blue, Orange, Red, Pink, Lime
Includes 90 day manufacturer warranty through Taylor-Vertex
Ignition Wire Set, 74191, 8mm Spiral Core, Purple, Silicone, Taylor, Sold as Set

Application Note:

Volkswagen parts can sometimes be interchangable, for this reason the information listed below is for a stock, unmodified vehicle. S&S Aircooled Parts and Accessories is not responsible for any errors if your car has been modified in any way.

| | | |
| --- | --- | --- |
| Make | Model | Years |
| VW Beetle | Convertible | 1949 - 1970 |
| VW Beetle | Sedan | 1949 - 1977 |
| VW Beetle | Sunroof | 1949 - 1977 |
| VW Bus | All Models | 1950 - 1971 |
| VW Karmann Ghia | Convertible | 1957 - 1974 |
| VW Karmann Ghia | Coupe | 1957 - 1974 |
| VW Super Beetle | Convertible | 1971 - 1979 |
| VW Super Beetle | Sedan | 1971 - 1977 |
| VW Super Beetle | Sunroof | 1971 - 1977 |
| VW Thing | All Models | 1973 - 1974 |
| VW Type 3 | All Models | 1961 - 1973 |