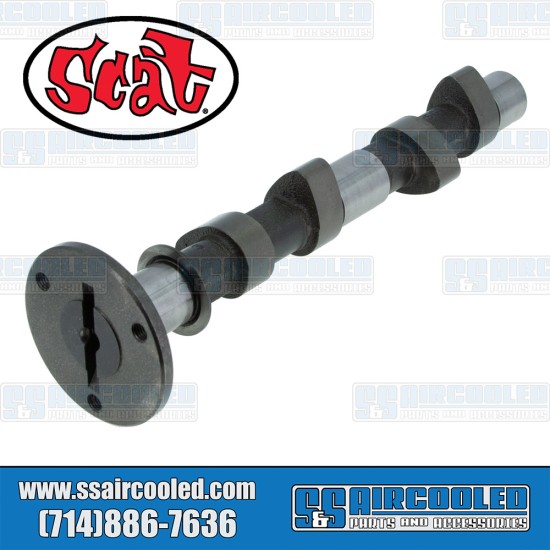 New
Scat Camshaft, C65, .413 Cam Lift, 309 Duration, 108 Lobe Center
Scat Camshaft, C65, .413 Cam Lift, 309 Duration, 108 Lobe Center, 20008C
Scat hardcore camshafts have race proven profiles designed for all engine applications. All Scat camshafts start off with a chilled cast blank and are precision ground with a large base circle and a 55-60RC hardness that makes them compatible with all Scat lifters. Each camshaft is stroke clearenced for larger stroke crankshafts. Designed to be used with 1.25:1 or 1.4:1 rockers.
Camshaft Specifications

Intake
Exhaust
Valve Lash (Inch):
.006"
.006"
Cam Lift (Inch):
.413"
.413"
Advertised Duration:
309°
309°
Duration @ 0.050":
274°
274°
Lobe Center:
108°
108°
Installation Note: New camshafts should always be installed with new lifters(It is suggested to use the same brand lifter as your camshaft brand). Must use an early style oil pump designed for flat camshafts. Valve lash is shown for stock rockers with aluminum pushrods, if using chromoly pushrods or lash caps valve lash should be set to .000" Lifter to Camshaft clearances need to be checked for proper installation. A minimum of .040" is needed. This should be checked between the nose of the cam lobe and the lifter seated in the lifter bore of the case. Spot facing the case lifter bores may be required.

Application Note: This is considered a universal part and can fit many different applications based on modifications to the vehicle. Application information is just for reference and not applicable to a stock vehicle configuration. Please verify your application before purchase to ensure this part is correct for your project.

Scat
Camshaft, C65, .413 Cam Lift, 309 Duration, 108 Lobe Center, Sold ea.
Part #:

20008C

Manufaturer Part #:

20008C

Scat
Tags:
Camshaft
,
Scat
,
Performance Upgrade VW Parts
,
VW Bug
,
VW Super Beetle
,
VW Karmann Ghia
,
VW Bus
,
VW Notchback
,
VW Squareback
,
VW Fastback
,
VW Thing
,
VW Baja
,
VW Buggy
,
VW Sand Rail