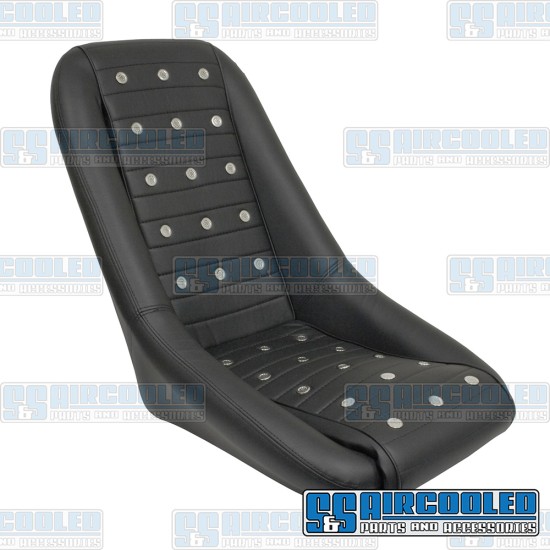 New
Race Trim Low-Back Roadster Style Seat, Black Vinyl w/Polished Vent Grommets
Race Trim Low-Back Roadster Style Seat, Black Vinyl w/Polished Vent Grommets, 62-2881-0
This Race Trim low-back Roadster-Style seat is constructed with a steel tube frame and features comfortable foam padding that adds good lateral and thigh support. It is a fixed back so it does not recline and is finished in black vinyl with polished vent grommets. This Race Trim seat has a low design that is perfect for Buggies, Kit Cars, VWs and other applications where a super-short seat height is of benefit.
Dimensions:
Overall Width: 18-3/4"
Overall Height(Includes Tabs): 24-1/4"
Overall Depth: 29-1/4"
Shoulder Width: 18-3/4"
Mounting Points(Side to Side): 10"
Mounting Points(Front to Back): 12"
Installation Note: This is a universal seat and does not come with brackets or adapters, so each application will require custom fitment. Covers are not replaceable. This seat has four (4) M8-1.25 female threaded inserts on the bottom.
Application Note: This is considered a universal part and can fit many different applications based on modifications to the vehicle. Application information is just for reference and not applicable to a stock vehicle configuration. Please verify your application before purchase to ensure this part is correct for your project.
Race Trim Low-Back Roadster Style Seat, Black Vinyl w/Polished Vent Grommets, Sold ea.
Part #:

62-2881-0

Manufaturer Part #:

62-2881-0

Race Trim
Tags:
Seat
,
Race Trim
,
Performance Upgrade VW Parts
,
VW Bug
,
VW Super Beetle
,
VW Karmann Ghia
,
VW Bus
,
VW Notchback
,
VW Squareback
,
VW Fastback
,
VW Thing
,
VW Vanagon
,
VW Baja
,
VW Buggy
,
VW Sand Rail