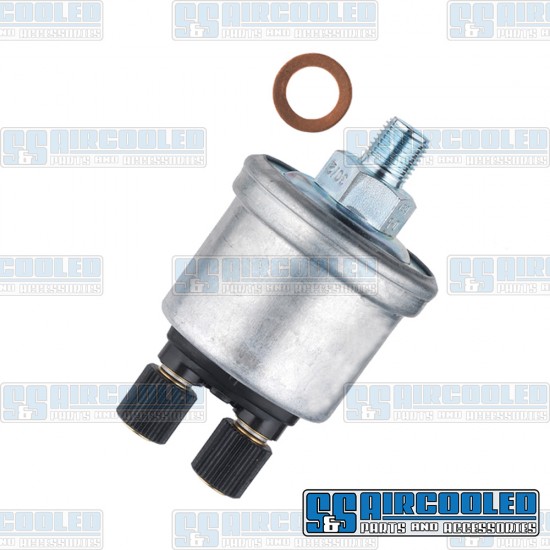 New
VDO Oil Pressure Sending Unit, 0-80psi, 1/8-27 NPT, w/Warning Light Option
VDO Oil Pressure Sending Unit, 0-80psi, 1/8-27 NPT, w/Warning Light Option, 360-009
This VDO sending unit is designed to use with 360-040 oil pressure gauge and will work with a warning light option. VDO Pressure Senders are designed to work with VDO gauges only. They're matched to gauges according to the maximum reading on dial faces. Unless otherwise noted, senders are 10-180 ohms and standard ground (sender case to common ground). This VDO sending unit has a 7psi warning light option(warning light NOT included) and comes with 1/8-27 NPT tapered thread: DO NOT use PTFE tape or pipe sealant, as this will interfere with grounding.
VDO no longer supplies product with written installation instructions. They can be viewed on their website (www.usa.vdo.com)
Application Note: This is considered a universal part and can fit many different applications based on modifications to the vehicle. Application information is just for reference and not applicable to a stock vehicle configuration. Please verify your application before purchase to ensure this part is correct for your project.
Oil Pressure Sending Unit, 0-80psi, 1/8-27 NPT, w/Warning Light, VDO, Sold ea.

Model:

360-009

MPN:

360 009

VDO