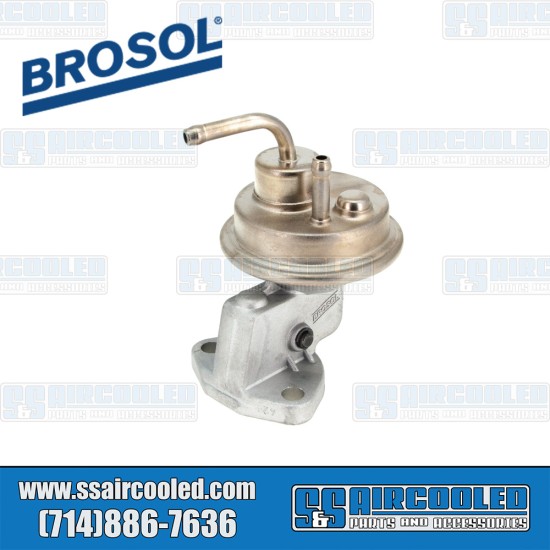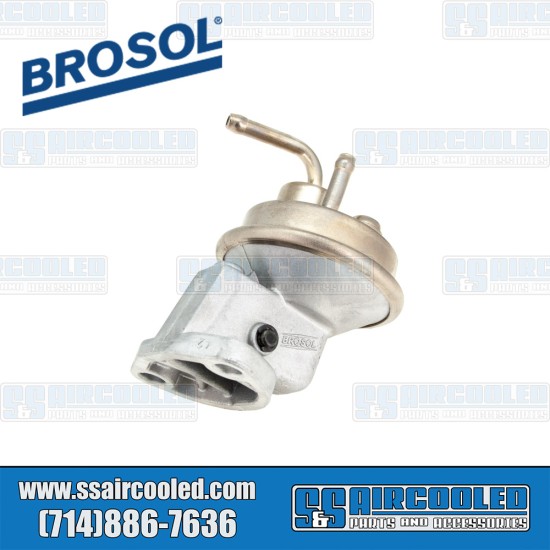 Brosol VW Fuel Pump, Stock, Top Ports, Fits w/Generator, 113127025BCD
Brosol VW Fuel Pump, Stock, Top Ports, Fits w/Generator
A high-quality replacement Fuel Pump for your old warn out stock unit. Fits 1200(40hp)-1600cc Volkswagen engines fitted with a generator. Must be used with 107.5mm (Long) fuel pump rod. This fuel pump is meant for stock carburetor applications and will not work with fuel injection.
Volkswagen originally used this style pump on Bug('61-'73), Super Beetle('71-'73), Ghia('61-'73), Bus('61-'71) and Thing('73-'74).
Installation Note: Alternator and Generator fuel pumps look very similar, however the mounting base is where the difference can be noticeable. The pump actuator will protrude past the base(Alternator) or be recessed in to the base(Generator). This is very important to know prior to ordering. If you order incorrectly you could damage the pump or cause it to not work at all. Fuel Pumps are not always shipped with gaskets, its best to buy a few extra gaskets just in case. Gaskets can be used to help shim the fuel pump.
Fuel Pump, Stock, Top Ports, Fits w/Generator, Brosol, Sold ea.

Part #:

113127025BCD

Manufaturer Part #:

113127025BCD

Brosol