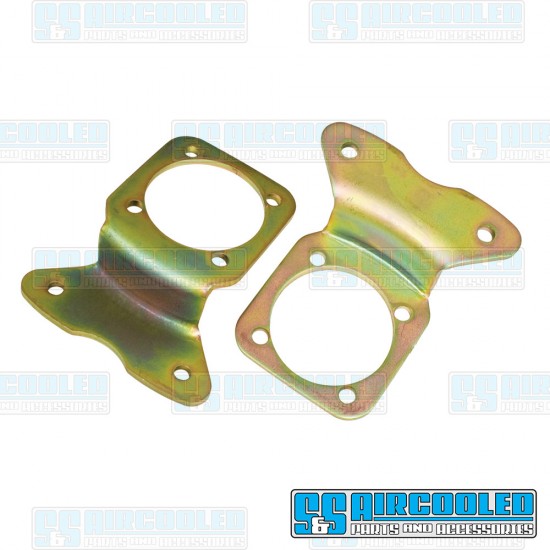 New

EMPI Disc Brake Kit, Rear, Blank, e-Brake, Stamped Brackets
This Economy Disc Brake Kit comes with stamped steel brackets and Blank rotors. For Volkswagen Street Cars where emergency brake provisions are required, this kit fits the bill perfectly. All EMPI disc brake kits feature O.E. style brake calipers that make poor brake performance a thing of the past. This kit features brake rotors that are blank and have no lug pattern. This will enable you to have the lug pattern of your choice.
Kit Includes: (2) Brake Rotors (Blank - NO Lug Pattern), (2) Brake Calipers, (2) Stamped Brake Caliper Mounting Brackets, (4) Brake Pads, (2) e-Brake Cables, (2) Axle Seal Kits and Mounting Hardware.
Installation Note: This disc brake kit will require you to have the pattern of your choice drilled into the rotors. We recommend you have a qualified machine shop drill your lug pattern. MUST be used with 15" wheels. (See Related Products) WARNING! It is extremely important that brake kits be installed by a trained mechanic. Proper length of each line in relation to wheel travel and steering angle is critical to avoid brake failure. Equally important is brake lines must be free flowing and have no contamination. Additionally, all calipers must be bled properly, regardless of kit purchased. Do not attempt brake line or caliper installation without the experience to properly evaluate all of these issues.
Application Note: This is considered a universal part and can fit many different applications based on modifications to the vehicle. Application information is just for reference and not applicable to a stock vehicle configuration. Please verify your application before purchase to ensure this part is correct for your project.
Disc Brake Kit, 22-2920-0, Rear, Blank, e-Brake, Stamped Brackets, EMPI, Sold as Kit

Price in reward points: 7120
Reward Points:

356

Model:

22-2920-0

MPN:

22-2920-0

EMPI