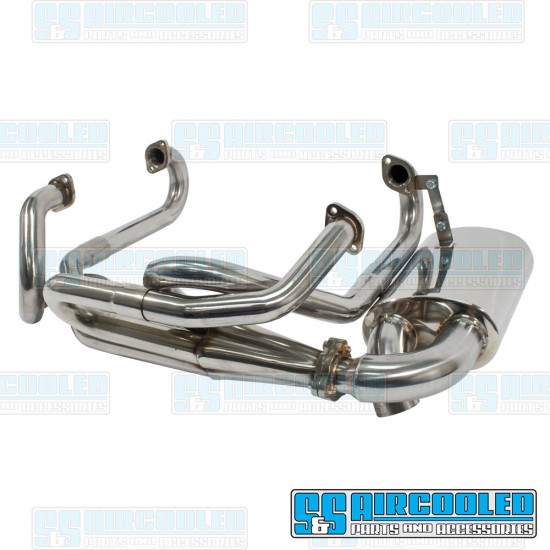 New
EMPI Sideflow Exhaust System, 1-5/8in. Header w/Muffler, Stainless Steel
EMPI Sideflow Exhaust System, 1-5/8in. Header w/Muffler, Stainless Steel, 00-3762-0
This EMPI "Sideflow" exhaust system features 1-5/8" stainless steel tubing with a true 4 into 1 merged collector. Tig welded for strength and good looks. The mounting flanges are thick. System includes a stainless steel Quiet Muffler. Complete with gaskets and hardware.
This is a competition system and cannot be used with heater boxes.
Installation Note: Do not mix headers and mufflers from other manufacturers. The muffler may not align properly with the header causing the muffler to hit the body or hang lower to the ground. If you are unsure which header you have you are better off replacing the header and muffler together to ensure a proper fit. EMPI offers several different styles of headers and mufflers, be sure your header fits with your muffler before purchase. Most headers and mufflers are coated with a layer of paint which acts as a rust inhibitor, and will burn off once the exhaust gets hot. It is best to remove this coating and apply a quality hi-temp paint. Exhaust systems are not warranted against rust. High exhaust temperatures may cause discoloration or bluing in Ceramic and Stainless, this is not a manufacturing defect. We do not warranty systems against discoloration or bluing.
Application Note: This is considered a universal part and can fit many different applications based on modifications to the vehicle. Application information is just for reference and not applicable to a stock vehicle configuration. Please verify your application before purchase to ensure this part is correct for your project.
Sideflow Exhaust System, 00-3762-0, 1-5/8in. Header w/Muffler, Stainless Steel, EMPI, Sold as Kit
Price in reward points: 14400
Reward Points:

720

Model:

00-3762-0

MPN:

00-3762-0

EMPI