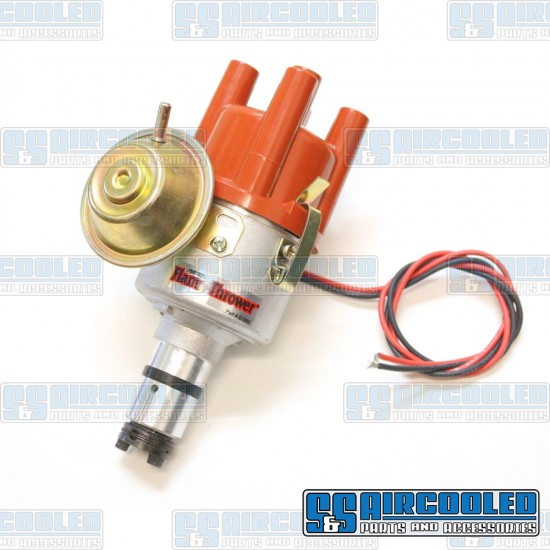 PerTronix Distributor, 043 Style, Vacuum Advance w/Ignitor Electronic Points
PerTronix Distributor, 043 Style, Vacuum Advance w/Ignitor Electronic Points, D186504
This PerTronix Flame-Thrower 043 style vacuum advance distributor is a great way to replace your worn out distributor with mechanical points. This distributor is based off the famous Bosch 043 vacuum advance distributor. It comes with PerTronix electronic points pre-installed and ready for you to install into your engine. All new lightweight cast aluminum housings. Tailored advance curve for optimal performance and drivability. Integrated Ignitor electronic ignition delivers twice the voltage to the spark plugs, increasing horsepower, fuel economy, and spark plug life. Rotating cobalt magnets trigger a Hall Effect integrated circuit which enables precise timing. High dielectric strength cap with brass terminals.
Installation Note: Electronic points operate on 12 Volts and will not work on early cars that have not been converted to 12 Volt.

Application Note: This is considered a universal part and can fit many different applications based on modifications to the vehicle. Application information is just for reference and not applicable to a stock vehicle configuration. Please verify your application before purchase to ensure this part is correct for your project.

Distributor, 043 Style, Vacuum Advance w/Ignitor Electronic Points, PerTronix, Sold ea.

Part #:

D186504

Manufaturer Part #:

D186504
PerTronix