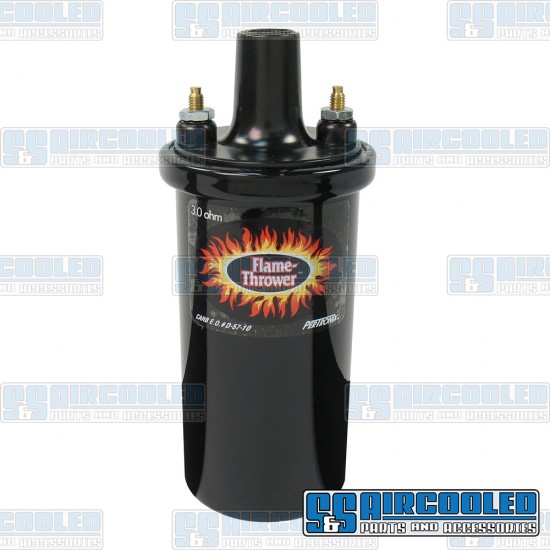 New
PerTronix Ignition Coil, 12 Volt, 40Kv Output, 3.0 ohm, Oil Filled, Black
PerTronix Ignition Coil, 12 Volt, 40Kv Output, 3.0 ohm, Oil Filled, Black, 40511
This PerTronix Flame-Thrower ignition coil is the perfect compliment to the Ignitor electronic ignition module or distributor with an Ignitor module installed. This coil has an output of 40Kv with an internal resistance of 3.0 Ohms and is designed to work with PerTronix Ignitor modules, this coil can also work with virtually any distributor type inductive system(Be sure to verify resistance requirements of your ignition module before purchase). Its higher voltage allows larger spark plug gaps for added power, smoother response and better fuel economy. These coils are internally resisted so installation and wiring is drastically simplified. Oil filled coils provide great heat control for street driven vehicles and are not suggested for high vibration environments in off-road vehicles. Legal in all 50 states and Canada. (C.A.R.B. E.O. #D-57-21)
Installation Note: This coil operates on 12 Volts and will not work on early cars that have not been converted to 12 Volt.

Application Note: This is considered a universal part and can fit many different applications based on modifications to the vehicle. Application information is just for reference and not applicable to a stock vehicle configuration. Please verify your application before purchase to ensure this part is correct for your project.

Ignition Coil, 12 Volt, 40Kv Output, 3.0 ohm, Oil Filled, Black, PerTronix, Sold ea.

PerTronix