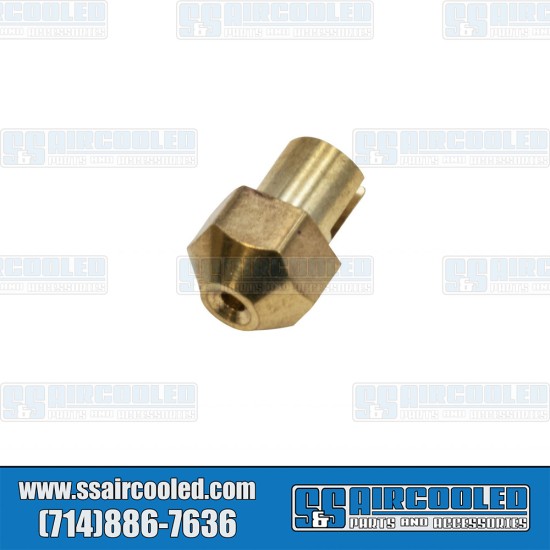 VW Main Jet, 40-58mm IDF/IDA/DCOE/HMPX/EPC, IDF-Main Jet
VW Main Jet, 40-58mm IDF/IDA/DCOE/HMPX/EPC
These EMPI carburetor main jets will fit EMPI 40/44 HPMX and 48/51 EPC carburetors as well as the popular Weber 40/44/48 IDF, 48/51 IDA, and DCOE carburetors. Carburetor main jets are available in the following sizes(1.10, 1.15, 1.20, 1.25, 1.30 , 1.35, 1.40, 1.45, 1.50, 1.55, 1.60, 1.65, 1.70, 1.75, 1.80, 1.85, 1.90, 1.95, 2.00, 2.05, or 2.10)
Purchase Note: We DO NOT accept returns on ANY carburetor jets, Please verify your current jet sizes and purchase accordingly. You can review our returns policy for more information.
Application Note: This is considered a universal part and can fit many different applications based on modifications to the vehicle. Application information is just for reference and not applicable to a stock vehicle configuration. Please verify your application before purchase to ensure this part is correct for your project.
Main Jet, 40-58mm IDF/IDA/DCOE/HMPX/EPC, Sold ea.

Part #:

IDF-Main Jet

Manufaturer Part #:

IDF-MJ
Tags:
Carburetor Jet
,
EMPI
,
Performance Upgrade VW Parts
,
VW Bug
,
VW Super Beetle
,
VW Karmann Ghia
,
VW Bus
,
VW Notchback
,
VW Squareback
,
VW Fastback
,
VW Thing
,
VW Baja
,
VW Buggy
,
VW Sand Rail